Open, Deepen, Cultivate the connection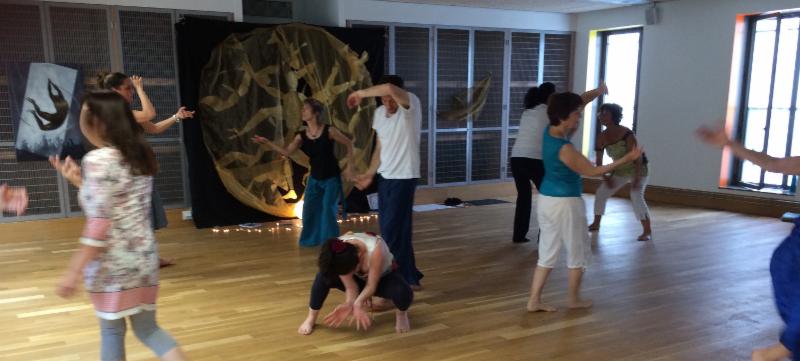 One day, at the end of module 3 of my Archetypes ongoing group, I suddenly realised I had spent 48 hours in a bubble of bliss, facilitating and witnessing the best of humanity: aliveness, authenticity, depth, courage, playfulness, risk taking and sensitivity, beauty and sensuality. I know that this took a level of trust that I find in ongoing work with a group.
When I started dancing, I instantly joined an ongoing group in Paris and that has been my favourite form of exploration ever since, as a student, as an assistant, as a teacher.
So what is it that speaks so strongly to my heart and soul in the process of an ongoing group?
1/ Relaxing into being together.
Whenever a group meets for the first time, a part of ourselves is busy figuring out : Who could be my friend? Who could be my enemy? Whom could I seduce? How do I fit in? It takes a while for this part of ourselves to relax, for trust to build. Of course we won't necessarily like everyone and there will be some rupture and repair, some misunderstanding and mistakes, as well as some deep connection, and beautiful moments. Usually from Module 2, we begin to trust this context, to trust "US", to know that we have the resources to explore together.
2/ Creating a container for deep exploration.
I have always been very sensitive to the energetic container of a room, of a group. We are not always aware of it as a student, but our whole system will adapt to the holding environment for our experience. If the container is strong, if we can rely on it, then we will unconsciously allow ourselves to go deeper or try something more risky, allow ourselves to be more vulnerable. And, as a teacher, I have enough time to weave together all the things I love : the exploration through dance of course, and through writing, collage, ritual theatre, journeying with breath, etc. An ongoing group opens up new possibilities.
3/ Space for me to give students individual attention
When someone chooses to study in an ongoing group with me, I get to know them. I see them evolve. There is space to give and receive individual feedback. This is especially fruitful for students who are interested in the training path.
4/ Integration between the dance floor and the daily floor.
When we weave a theme all year long, what we explore and experience on the dance floor tends to integrate more easily into our daily lives. I support that by offering suggestions for integration and ongoing exploration between modules.
Also people who dance together in this context ( and some students do 3, 4, 5 ongoing groups) get to know each other really well. Some beautiful friendships are born, that begin to thrive off the dance floor as well. So ongoing groups also help develop a sense of community.
Gratitude to my teachers in this ongoing process : Andrea Juhan, Richard Moss, Deborah Bacon Dilts, Dilys Morgan-Scott.

Feedback from Students.
Séverine : "My amazone armoring continued to melt, one layer after the next, as I journey through ongoing groups. It eventually lead me back to my original essence, to my deep self, and helped me open up to life and love with trust. Accepting to receive Love and trust life was a really strong experience for me in the weekends we spent together. It liberated in me what needed to be freed in order for that to integrate into my daily life. I feel a lot of gratitude for that as well. "
Benjamin : "This ongoing group has open a path towards loving myself and loving another. Several professional projects were supported by this journey. Potential obstacles are no longer "obstacles" and life becomes a partner. So I can surrender more and more, experience the pleasure of discovering rather than controlling."
Françoise : Françoise shares her experience – English subtitles
Would you like more information?